TEAM MEMBER​
Always At Your Service
Romy B. Jurado, Esq.
Attorney
Romy B. Jurado, Esq. is a Florida licensed attorney, originally from Peru, who focuses her practice on domestic and international business transactions with an emphasis on corporate formation, stock and asset sales, contract drafting, and business immigration. Romy earned her Juris Doctor degree from the Florida International University College of Law. During her law school career, she participated as a student‐attorney with the Immigration and Human Rights Clinic and the Bankruptcy Clinic, where she represented clients in deportation proceedings and chapter 7 filings. Romy enjoys spending time with her husband Eddie, their cats, Tommy, Monkey and Chanel along with their dogs Foxy and Bobby.
Email Romy at [email protected]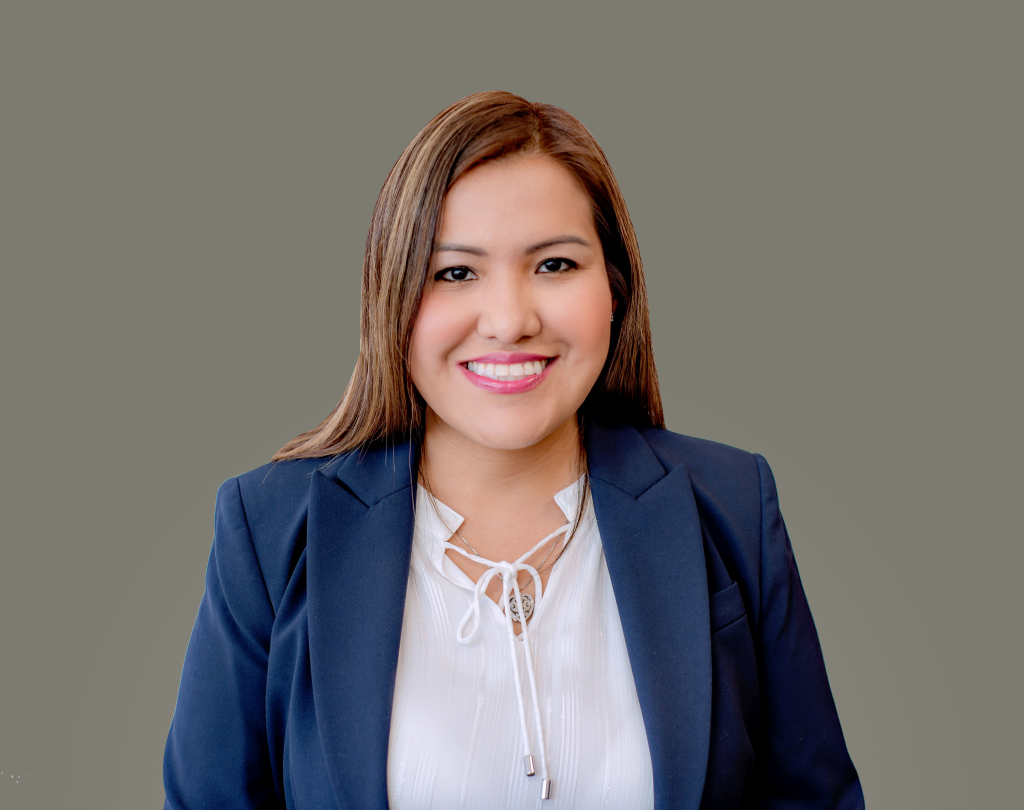 Diana L. Collazos, Esq.
Attorney
Diana L. Collazos, Esq. is an attorney with Jurado & Associates, P.A. and she specializes in probate law and business immigration. Ms. Collazos attended Florida State University in Tallahassee, Florida where she graduated summa cum laude earning a Double Major in History and International Affairs. Ms. Collazos then received her Juris Doctor degree from Florida International University College of Law in Miami. While in law school, Ms. Collazos volunteered at the United States Equal Employment Opportunity Commission. Ms. Collazos is bilingual in Spanish and enjoys spending time with her family and cat Ryu.
Email Diana at [email protected]
Our Staff
Andrea Aristeiguieta
Paralegal
Andrea Aristeiguieta is a paralegal with Jurado & Associates, P.A. Andrea attended the University of Arturo Michelena in Venezuela where she received a Law Degree, then she moved from Venezuela and attended the Legal Assistance program in Broward College. Andrea supports the litigation, Immigration and Probate Practice.
Email Andrea at : [email protected]
Andrea A. Gonzalez – LLM
Law Clerk
Andrea A. Gonzalez is a law clerk with Jurado & Associates, P.A. She graduated from Andres Bello Catholic University in Caracas, Venezuela and later obtained her Master of Laws degree (LL.M) from Florida International University, College of Law. In Venezuela she worked as a Business Attorney and when she arrived to the United States she started working as a Business and Immigration Paralegal. Now in Jurado & Associates, P.A. she handles trademarks and immigration matters.
Email Andrea at : [email protected]
Dona Nuñez
Executive Assistant
Dona Nuñez is the Executive Assistant at Jurado & Associates, P.A. She was born in Miami and is graduating from Florida International University with a double bachelor's degree. She is bilingual in Spanish and enjoys assisting the office. Her favorite activities include spending time with her cat Hunter and seeing her family.
Email Dona at : [email protected]
We're Here For You
You're In Safe & Experienced Hands
Jurado & Associates, P.A. is a boutique Florida law firm that specializes in real estate, business law, immigration, and probate. The probate process can be costly and time consuming for heirs and personal representatives. We handle all forms of probate, including ancillary and summary administrations, ensuring that the probate estate is properly and efficiently handled at minimal cost and hassle.
We value justice, honesty and time. We are always at your service as we are in charge of your defence. Any detail will be noticed and it can be essential for your case.
At Jurado & Associates, we combine big firm resources and experience with the personalized attention of a boutique law practice. Our lawyers use the latest technology available to help our clients resolve their cases quickly and cost-effectively.
Probate is the legal process of proving a Will. As probate lawyers we assist the Executor of a Will in making the application for probate in the Supreme Court. The process is complex and needs to be accurate in respect to the assets and liabilities of the estate. Once probate has been granted by the court, the executor then has the ability to deal with the assets of the estate and accordance with the Will instructions.
Jurado & Associates, P.A.
Formal Administration
Under formal administration, the executor of the will or another party is appointed as the decedent's personal representative through issuance of Letters of Administration.
Personal Representative
Also defined as "no probate," this form of asset distribution allows reimbursement of the person who paid the decedent's final expenses from the assets of the estate.
Probate Process
Probate Process administration is the court-supervised process that involves identifying and gathering the assets of an individual who has passed away (commonly referred to as the decedent).
Guardianship
Learn what a guardianship is, what it is not, and when it is necessary. Our Florida Probate Attorneys are here to help you in your particular case.
Ancillary Administration
This is the method for administration of assets owned by a decedent out of state, but which are themselves located in the state.
Summary Administration
Summary administration is an abbreviated means of settling an estate, or a "shortcut" that is available to many estates. Our experience allows us to connect with our clients and strategize with them to find the best solutions to their legal matters.